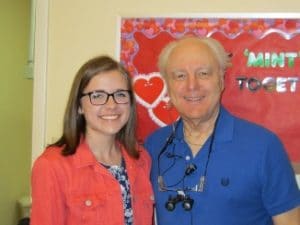 Because we had a guest writer for our main article this week, we thought it would be fun to be able to put a face to the author of the entertaining and informative item you read about flossing. Ashlyn has an inside track to hygiene because she has lived with our very own hygienist, Stacey, all her life. She has learned through personal experience the extra value of flossing daily. She says that at our office "the dental hygienist is pretty great and I am saying this with no bias at all."
A senior at Roswell High School, Ashlyn writes a weekly article on the online magazine, Odyssey. Ashlyn is delighted and, as you can see, more than capable to do the job. Some of Ashlyn's favorite things to do include listening to various types of music. Her favorite artists iinclude All Time Low, Ed Sheeran, Chance the Rapper, and Drake. Of course, she enjoys writing, but she is a terrific artist. She can sketch anything! She also likes running and is a member of RHS Cross Country team. And, this may surprise you–napping. She loves to nap.
During the Presidential Inauguration, Ashlyn went to Washington, DC with the Close Up Foundation. She loved that she got to meet with senators as well as witness history.
Congratulations, Ashlyn! We think you are pretty great, too!