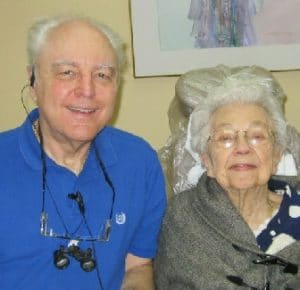 Juanita Crowder just moved from Iowa where she was married to a Chiropractor who started his practice in 1947. She was her husband's bookkeeper, investor, and served as landlord of several apartments they owned.
She enjoyed singing in the church choir, playing the piano, as well as needlepoint and gardening. They lived in Iowa so they cheered for the Chicago Cubs. In her spare time, she raised her lovely daughter Ann.
Mrs. Crowder lived through the Great Depression as a teenager and saw some difficult times. She married her husband just before he entered flight school during World War II. He became a Captain and flew B-17s with the 490th Bomb Group. Everyone worked hard and had very little, as well as spent a lot of time worrying about who would come home from the war and who wouldn't. She said the 1930's and 1940's were difficult years for everyone who lived them.
Since Dr. Crowder lectured on upper cervical chiropractic care, Mrs. Crowder had the opportunity to travel often. Her favorite trips were to Japan, where traditionally, the people are honorable and gracious. They live their life based on honoring their forefathers. Back then, as it may still be today, you could leave your luggage in the middle of the airport and no one would steal it.
Congratulations, Mrs. Crowder. You are a sweetheart!