Looking back three years today, July 15th, I lost a dear cousin to Oral Cancer. We are not talking about a senior; we are talking about a vibrant individual who lit up the lives of all he met. At the ceremony in Plano, Texas, a suburb of Dallas, the packed service attended by so many friends and family attested to that. People were standing because there was not enough seating; they ran out of memorial cards. Not disorganization of the service; just an unexpected outpouring of love.
Maybe it will go Away . ….
The sad fact about my cousin, Bruce, is that his dentist found a lesion. Like so many other people, Bruce thought it "would go away." His wife, Jan, told me that Bruce did not want me to know about it. That saddened me because I thought I could make a factual urging that would prompt Bruce to find an oral surgeon to have a biopsy of the lesion.
Procrastination can effect the outcome
Why didn't Bruce visit an oral surgeon? Was he so busy that his "life got in the way"? Was he afraid of the outcome? From my experience and those of my colleagues, the majority of lesions of the mouth are benign. Why didn't he want me to know? Again, fear may have been the culprit.
I have always thought that the oral cancer examination is one of the most important facets of the dental exam. I bought equipment that helps me identify possible areas before they appear visually in the mouth so that I can recommend a referral for a consult with an oral surgery specialist, if necessary. I offer this at no charge because I care about my dental family.
Panoramic x-rays can see what we cannot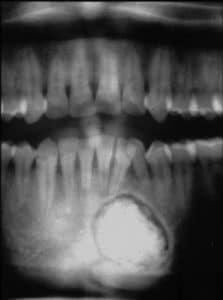 Another essential part of a complete dental evaluation is the periodic panoramic x-ray. There are several reasons to take this x-ray, but certainly one is the detection of cancer. "To see is to know; not to see is to guess"  You will note the image that I have embedded in this blog of a healthy nineteen-year-old adult with no visual problems, but lurking underneath is this enormous growth. Wouldn't you want that out, and wouldn't you want to know if it was cancer? If you were my family, and you are, I would certainly recommend it.