A new Lip Challenge has teens girls posting videos on YouTube and TikToc of themselves gluing their upper lips with different adhesives to achieve perfect pouts and puckers.
The girls show themselves putting nail, eyelash, and other types of glue on their upper lips.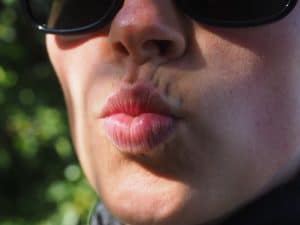 Once the  lip gets "tacky dry," the girls stick it to their Cupid's bows, just above the upper lip. Then, they post selfies of fuller lips that look like they just underwent botox injections. The posting proves just how social media influences our young people.
The lip gluing challenge, called everything from "cute" to "dangerous," has claimed no injuries. But, experts warn it's not safe. Even though eyelash and nail glues are safe for the skin, they are not meant for the delicate lip area and may irritate the lips. All other adhesives are not to be used on the body because they have toxic ingredients.
Please be sure to inform your young ladies that this "lip treatment" could have negative consequences.